"Powered by science, focused on customers."
Uyemura provides exceptional, problem-solving finishing technology solutions, including the broadest range of PCB finishes, ENIG, ENEPIG, EPIG, and much more.
Technology
---
6 Honored for Exemplary Performance
---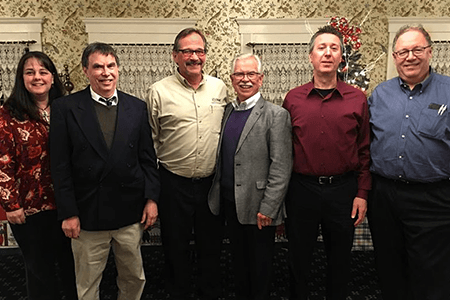 President Tony Revier (4th from left) recognized 6 UIC employees for their extraordinary service as a highlight of UIC's annual Christmas dinner. Receiving awards were Patricia Wolowicz, Office and Inventory Control Manager; David Liston, Director of Operations; Scott Butterfield, Technical Service Representative; John Meyers, Strategic Account Manager; and Rich DePoto, Business Development Manager. April LaBonte, Technical Service Engineer (not shown) was also honored.