News and Videos
Annual Meeting Honors Excellence
Uyemura's Annual Meeting brings together leading experts on plating technology for 2 days of intense knowledge-sharing and planning for the new year.
The event, held each December, is also a celebratory occasion, an opportunity for the company to honor those who have reached important landmarks in years-of-service, sales or meritorious service, or have earned a UIC "Camel" award for outstanding effort and effectiveness.
President Tony Revier and Vice President Don Gudeczauskas presented these awards for 2017: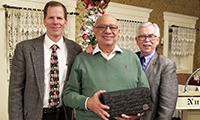 George Milad,
National Accounts Manager of Technology
15 Years of Service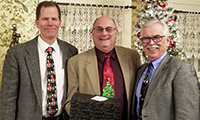 Jack Skelskey,
Plant Manager
15 Years of Service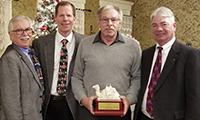 Jeff Rand,
Technical Sales Representative
2017 Camel Award
Co-presenter: Mark Eonta (far right)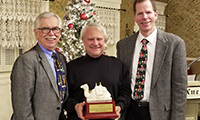 Steve Angona,
Sales Support Engineer
2017 Camel Award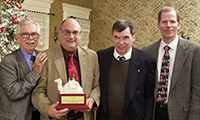 Jack Skelskey,
Plant Manager
2017 Camel Award
Co-presenter: David Liston
(2nd from right)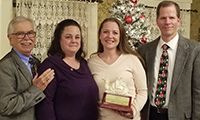 Abbey Williams,
Inside Sales Representative
2017 Meritorious
Service Award
Co-presenter: Tricia Wolowicz
(2nd from left)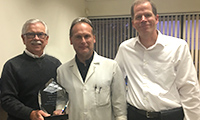 Doug Duda,
Laboratory Manager
25 Years of Service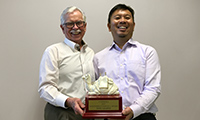 Tony Salbino,
Project Engineering Manager
2017 Camel Award
Uyemura CEO Honored for Service, Contributions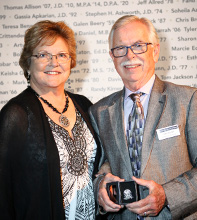 Uyemura CEO Tony Revier, shown with his wife, Mary Anne, after receiving the University of La Verne's 125 Most Notable Graduates Award.
Uyemura President and CEO Tony Revier has twice been recognized by his alma mater, the University of La Verne, (La Verne, CA), an institution widely known for its influential business and public management programs.
Revier was honored as one of the University's 125 Most Notable Graduates at a ceremony commemorating the 125th anniversary of the university. The awards were given by University President Devorah Lieberman to alumni based on four criteria. Honorees had made unique and significant contributions to the university, had a distinguished history of community service, had excelled in business, and had created a positive work environment for their employees. The awards were announced at an alumni ceremony October 27, 2017.
In May, 2016, Revier was selected by the university to join its Board of Trustees.
Revier received his MBA from La Verne in 1993, and has also served on its College of Business & Public Management Advisory Board. He has been CEO of Uyemura USA since 1988.
Groundbreaking Technology Facilitates Direct-to-Cu Plating
Uyemura announces Talon 3 electroless palladium, a groundbreaking technology in board chemistry that allows plating directly onto copper. This development paves the way for EPIG – electroless palladium / immersion gold, a nickel-free alternative that becomes more consequential as lines become tighter and space more critical.
The EPIG finish made possible with Talon 3 electroless palladium solders perfectly after eight hours of steam aging – a significant achievement. The process was developed by Uyemura's Connecticut Tech Center, one of the industry's most renowned facilities for the development and testing of board chemistries. more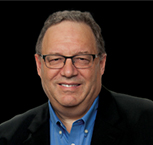 Richard DePoto, Uyemura Business Development Manager, and Karl Sauter, Principal Engineer, PCB Technology at Oracle Corporation, have been elected Co-Chairs of the IPC 4-10 Printed Wire Board Fabrication Committee.
The IPC 4-10 Committee overseas the activities of numerous active subcommittees, including the SC-14 subcommittee responsible for updating PWB Final Finish standards. The SC-14 committee released a new ENIG specification, IPC-4552 Rev. A in August of this year.
Milad Speaks at SMTA, IPC, PCB West Conferences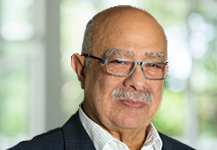 National Accounts Manager for Technology George Milad conducted a workshop during SMTA's International Conference in Rosemont, IL, Sept. 17-21. Its title: "Surface Finish HASL Alternatives for PCB Applications." He was recently honored as a Distinguished Speaker by the SMTA Technical Committee for exceptional presentations at SMTA technical conferences.
At IPC APEX, Milad provided a perspective of the committee's work, including revision of IPC-4552 RevA, "Specification for Electroless Nickel / Immersion Gold (ENIG) Plating."
At PCB WEST September 13 in Santa Clara, Milad spoke on Setting Up a Successful Blind Via Hole Fill Plating Process. Blind vias are an enabling technology for HDI boards; via fill provides a robust connection with no chance of voids during assembly. Vias with a 1:1 aspect ratio are common; it is possible to plate vias deeper than the via's diameter, up to 1.5:1. This important talk is part of the PCB Fabrication/EMS Management Forum.
Milad is the recipient of IPC's President's award, and Co-Chair of the IPC 414 Committee.
Uyemura Leads With EU REACH Compliance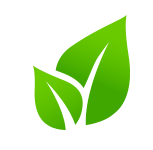 Uyemura, and its European affiliate, Umicore, are pleased to announce a series of European REACH-compliant (nickel-free) plating solutions for manufacturers of metal components.
The use of nickel in consumer objects has long been regulated by the European Nickel Act. Recently, a tightening of regulations, related to the degree and frequency of skin contact, has been adopted. This has resulted in many items that were not previously affected to be covered.
REACH-compliant solutions provided by Uyemura include Miralloy, a copper/tin/ zinc alloy that replaces silver, palladium and nickel for a many applications, and Palluna 457, a pure palladium that's low in porosity, corrosion resistant, and builds crack-free layers of 3 μm and higher.
Uyemura ENEPIG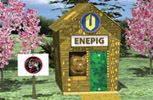 ENEPIG produces a highly uniform EN deposit, followed by electroless palladium, with an electroless gold flash.
View the video
Uyemura's RGA-14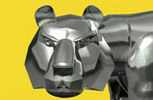 RGA-14 is the world's highest productivity immersion silver process.
View the video